John J. Wire
Digital illustrator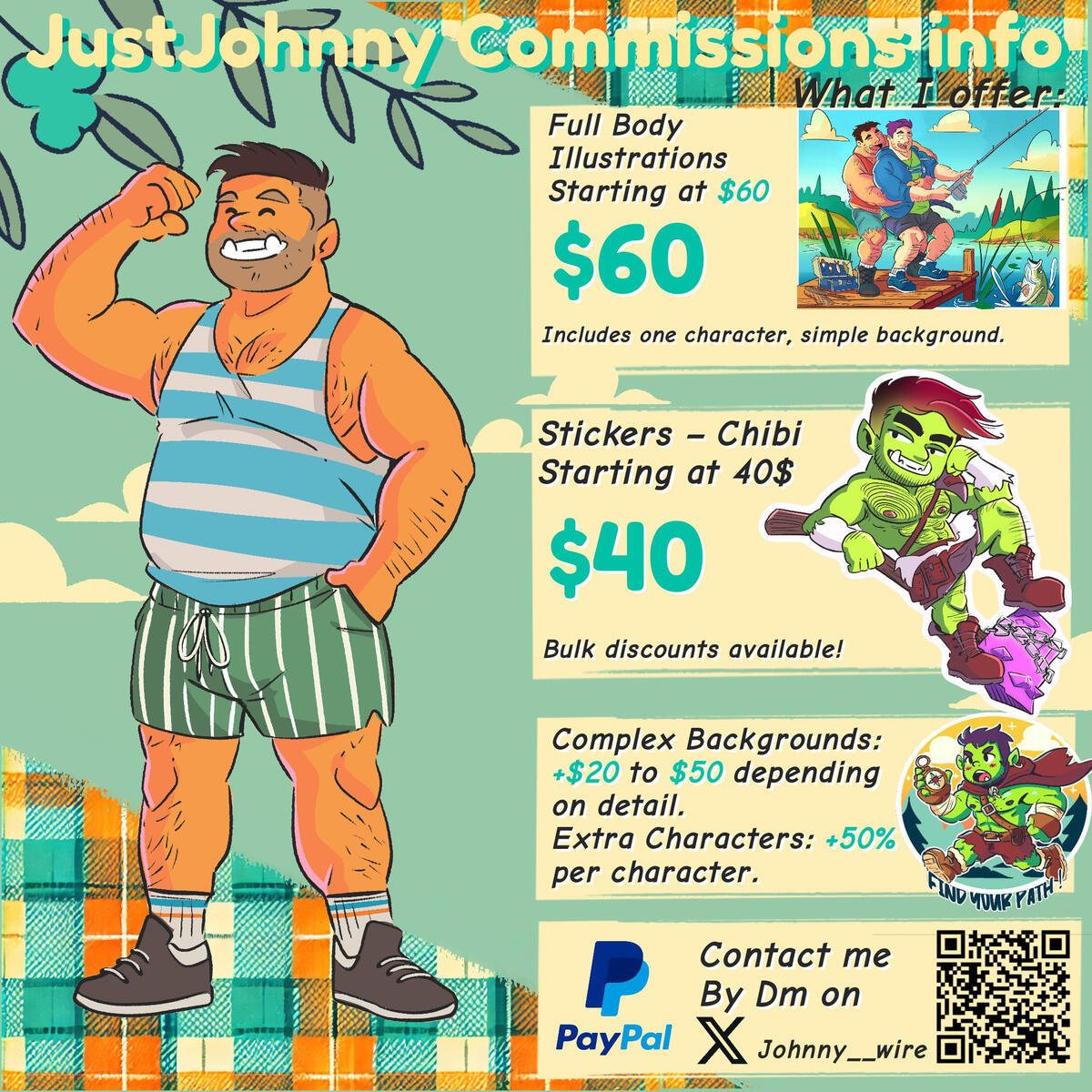 33 | Fr | Half-Orc

Welcome to my page !
I'm Johnny, a Canadian
artist. Here you will be able to find all the information you need about my commissions, and how to
contact me.

Thank you for your visit !
______________________
Bienvenu sur ma page !
Je suis Johnny, un
artiste canadien. Ici Vous trouverez toutes les informations liées à mes commissions, et comment
me contacter.

Merci de votre visite !
I can draw:
Original characters and fanart / human, robots, anthro, etc.Simple backgroundsFrom semi-realism to more cartoony style, I'm flexible so feel free to ask!Tasteful nudity
I won't draw:
Very elaborate backgroundsExplicitly sexual contentGore, ideologically offensive content
Prices are in USD. Payment through Paypal only.

If you have any questions, or wish to commission me, contact me on my social media or by mail. Thank you !
Comission information
SUMMER SALE !
---
Colored illustrations
Starts at:
Bust: $ 30 USD | waist-up $ 40 USD | full body $ 50 USD
Price depends on complexity of the request
Can adjust anatomy and stylistic approach depending on the subject
Lined, coloured, shaded

Additional characters / half of the base price
---
Character design

Start at: $ 30 USD (Bust)

Price depends on complexity of the request
A colored or black and white illustration based on:

Name of character | Gender of character | Age (or age character looks) | Species (or ethnicity if human) | Personality of character (5 keywords will do) | Other relevant features/notes/info (universe, fandom/ etc.)
---
Black and white illustrations
Starts at :
Bust: $ 20 USD | Half-body $ 30 USD | full body $ 40 USD
Price depends on complexity of the request

Additional characters / half of the base price
---
Tasteful nudity
Same as colored illustration/ character design